English version
English version (tentative) of Ozawa Lab in Nagoya University, IMaSS, Prof.M.Ozawa Lab for Environmental and Automotive Catalysts
Facility
Nagoya University, Institute of Materials and Systems for Sustainability (IMaSS), Material Research Division, Ozawa laboratory
Nagoya University, Graduate school, Dept. of Material Design Engineering,  Nanostructure and Environmental material engineering laboratory, which is managed by
and sixteen graduate and undergraduate students and also two visiting professors.
Research and education
At this laboratory, "Nano-environmental material engineering" for the environmental preservation which united catalyst chemistry and nanomaterials engineering is claimed as the new area of research and education.
Physics and chemistry of "catalyst" and "catalysis" which are the important viewpoints of substance conversion
"Material in a nanometer level" which can reduce resources and an energy risk, and provide environmental depollution.
These scientific principles are utilized and pratically useful research for environmental preservation is promoted.
The latest details of research
Effective use of cerium in an exhaust gas cleaning catalyst
High activation by production and immobilization of ceramic and metal catalyst nanoparticles
Research of the platinum group reduction in automotive catalyst
Development of the catalyst ceramics for environmental preservation
etc
The details of research
Effective use of cerium in an exhaust gas cleaning catalyst:
To global resource drain and maldistribution, accumulation of alternative reduction technology and the basic research for the effective use of rare elements are important. As an important point of automobile exhaust treatment technique, element selection, industry and environment are closely connected on an elemental strategy. Especiaclly, platinum group and rare earths serve as a field which can harness its basic scientific principle and arts and sciences. At this laboratory, catalysts, subcatalysts and catalytic supports using nanoparticle materials with unique structure (core shell structure and mixed oxides) are developed from a viewpoint of effective use of cerium, a rare earth and precious metals. Research on the automobile exhaust treatment catalyst can realize these element resources effectively.
High activation by production and immobilization of catalyst nanoparticles:
Although nanoparticles are usually produced at low temperature, it is necessary to calcinate and to stabilize them at high temperature, as the catalyst for a hot gas reaction, or heat-resistant ceramics. This laboratory is holding the technology of a highly active meterial state against hot gas in nanoparticle catalysts, and the foundamental and applied research are performed.
Research of the platinum group reduction of automotive catalyst:
3/4 of the platinum group metals produced in the world is used for exhaust treatment of an automobile engine. Incidentally, if an engine substitution candidate's fuel cell (FC) is replaced, it is said that there are too many amounts of platinum to pratical mass-produce of FC. Although it is the environmental measure technology of the car manufacturing as well as one of the most important academic subject at environmental preservation, it has resulted in the situation which can be said also as an international competition from the industry side. In the effective small engine technology for risk reduction of being based on energy dispersion use, the exhaust treatment technology still has a subject with difficult solution which is not perfect and hanging around (plaase see much unlawfulness by the large industrial car makers in the world). Platinum group metals, such as platinum, palladium, and rhodium, are used in large quantities for the improvement in performance. These amount used should be reduced, and it tackles and makes it the difficult subject that many people (researchers and managers), called raising environmental clean-up technology, have escaped.
Development of the catalyst ceramics for environmental preservation:
A green technology is comprehensive engineering, and even if it is studying one nanoparticle, it is not realized for making people happiness. (Therefore, all impact factor competitions behavior around academic journals and papers in limited societies not necessarily sense that it is not necessarily fortunately connected by much people in the world.) At this laboratory, development of a local company and environmental ceramics (catalyst equipment) was performed aiming at industrialization by environmental preservation. The volatile organic compound (VOC) processing unit which combined marketing of the ceramic honeycomb of budget prices was developed (trial production). Still more, the wall of mass-production utilization is high and further development is required.
Role of the high oxygen storage capacity in automobile exhaust treatment (a ceria zirconia catalyst) :
This is Ozawa's major special issue but Under construction.
Prof. Masakuni Ozawa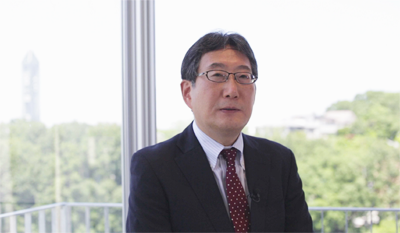 Affiliation
Institute of Materials and Systems for Sustainability (IMaSS), Nagoya University
email: ozawa@imass.nagoya-u.ac.jp
Biography
M.Ozawa is now Professor and Director of Material Research Division, IMaSS, Nagoya University at Nagoya Japan. He received a B.S. in Applied Chemistry (1979) and a M.A (1981) from Nagoya University, and Ph.D (1992) from Graduated School of Engineering at Nagoya University under the direction of Prof.S.Hirano. He was employed at Toyota Central Research Labs.Inc., and worked in the groups of physical vaccum technology and automotive exhaust catalysts, in 1981-1992, and joined the lab of Nagoya Institute of Technology as an associate professor, then a professor of material science, since 2004. From 2013 he has been a professor of Nagoya University, and now continued the same.
Special field of study
The material engineering field of the environmental catalyst which connects the analysis by physical means to an understanding of the properties of an automotive catalyst and nanomaterials to the improvement in catalyst performance. Application by practical invention and development of the heat-resistant automotive catalyst were performed until now, and also so called "ceria zirconia" oxygen storage capacity (OSC) catalyst was invented especially in 1987 for general technology in automotive catalysts. Henceforth, the basic research of ceria-based OSC material or nano-structured catalyst material and the development research of ceramic parts production are advanced.
Research activities (national project and academic society)
The project leader of development of the automotive catalyst which carried out reduction of the cerium in the NEDO rare metal development project in 2011 to 2012, In 2013 to 2016 the platinum group reduction project, 2009 to 2011 environmental harmony type ceramic development at devotion, 2016 - present the interdisciplinary and international personnel training via life and material innovation project (as secretariat) with the Ministry of Education, Culture, Sports, Science and Technology. A vice president of the Society of Materials Science, Japan (2013 to 2016), the Catalysis Society of Japan western-part-of-Japan branch manager, a waste resource circulation society Tokai branch manager, the section manager of the Society of Materials Science. The academic prizes, the society of U.S. automobile association ET2 award, the chemical society of Japan chemical technology prize, The society of materials science scientific contribution prize, the Japan society of powder and powder metallurgy distinguish research prize, the rare earth society of Japan prize, etc. are won.